Colombo by Night
Smriti Daniel checks out some favourite night-time hangouts
Colombo is transformed by nightfall. The streets empty of traffic as most of the city falls asleep but in smoky clubs the strobe lights begin to flash and along Galle Face, the vendors light up their lanterns. Every night owl has his or her favourite spot – the kade that's always open for a snack at 4 a.m., the club where the beautiful people gather, the quiet walk that takes you past old, moonlit buildings.
We asked young Colombo residents, "what do you do in Colombo after dark?" Here are some answers we received: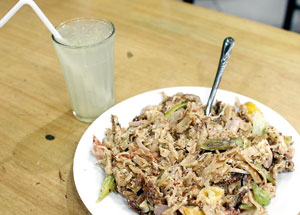 Pilawoos: For cheese kottu and lime juice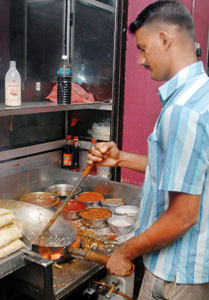 It's not your typical girl's night out. "Sometimes, after dinner we just go to Carnival and get some ice cream. We'll take it with us and hang out at Galle Face or Independence Square," says Iromi. Iromi can count on Galle Face Green being alive with people on any day of the week. "Even if you go on a weeknight, there's a lot of activity," she says, explaining that people are still around as late as ten.
"Galle Face was closed for so long, so it's nice that people are taking advantage of it now." If they're looking for something more substantial than an ice cream cone, Burger's King at the Malay Street Junction in Slave Island is guaranteed to sate any appetite. If the budget allows for a more upmarket venue, she says 7° North at Cinnamon Lakeside is a great place to relax. Her favourite dish is not on the menu – you will be served Hot Butter Cuttle Fish from the Royal Thai on request.
For dancing Iromi prefers either Silk or Amuseum they come out ahead of other city nightclubs because she likes the crowd and the music, which she describes as "really trashy pop." After a night in the close confines of the club, they like to go for long drives through Fort past the old Parliament, and buildings like the World Trade Centre and the Old Dutch Hospital.
Adalia is a German who has lived in Sri Lanka for 16 years, and says she no longer enjoys going to the local clubs. It takes a restaurant to tempt her out – she recommends Shri Vani Vilas on Messenger Street which she describes as a "a brilliant Indian vegetarian restaurant, where the kitchen is cleaner than the one at the Hilton." Adalia doesn't always want company, but she says women eating alone in local restaurants can feel very uncomfortable. She's opts to go here because "the entire staff watches out for you."
Shanmugajah's is another favourite.
To begin his night out, Andre might go to Lani's Sea Food Restaurant in Dehiwala – he describes it as undiscovered and cheap, and notes the restaurant has good service. It's secluded, he says. (Lanis is down Windsor Avenue.) Flag & Whistle is another restaurant he would recommend – this one comes with a glorious view. Since the restaurant overlooks the port, it's a good idea to get their around 5 p.m., just in time to catch sunset over the harbour.
"Entertainment in Colombo is basically broken down by age," says Andre, explaining that the city's clubs each cater to a specific age group and its tastes. Club hopping is still popular and Andre says the usual round takes dancers through Mojo at the Taj, R&B on Duplication Road and Amuseum at Galle Face. (Different bands step up to the mike at R&B for rousing live music.)
Eating out late used to be about stopping at Pilawoos for a cheese kottu and a lime juice, but Andre says there are plenty of better options. The Gardenia Cafe at the Ramada Hotel (the old Holiday Inn) is a coffee shop that's open all night.
Of late, Prasad has found himself at Sopranos (Maitland Crescent) surprisingly often – "for reasons I can't quite fathom, I like going there," he says adding that his signature number is 'Bed of Roses' by Bon Jovi. "I think it's the company...the crowd I go with is a lot of fun." Their raucous night is typically fuelled by food and drink from one of the local clubs such as SSC, CR&FC or CH. Once at Sopranos they tend to stay and sing, well into the night. If anyone feels like dancing Clancy's is one floor up and Silk is just down the road.
French restaurant 'La Voile Blanche' in Mount Lavinia is a bit expensive but serves excellent food says Ramesh. Billed as a 'Gourmet Beach Lounge,' the restaurant is known for its seafood, but Ramesh who is a vegetarian still finds something to suit his taste. (The restaurant has a menu up on their facebook page). Another favourite by the Beach is Buba. They've preserved some of the mangroves and Ramesh likes to find one of the tables tucked into a corner.
For entertainment later in the evening he might opt for a party. But for most part, he's disappointed with what the city has to offer: "I think Colombo absolutely lacks relaxed, tasteful places to hang out with good music and friendly atmosphere, professionally organised private parties in houses and out of town places are the ones that are really special."
The Greenlands Hotel in Shrubbery Gardens, Colombo 4 is one of Colombo's oldest restaurants serving South Indian cuisine. But just there on the side is the Greenland's Bar, which Dominic describes as "an extremely fine and decent drinking establishment." Though they will not bring your meal to the bar, they serve the best hot vadaai in town on the side, says Dominic. "It's a place you might go by yourself to read the newspapers," he reveals, "there's no one screaming or shouting or jumping up and down."
His other favourite place has an equally respected pedigree – the Castle Street Hotel in Slave Island. "It's a wonderful place with a long history," says Dominic, explaining that during the colonial period, while the Grand Oriental Hotel near the ports used to welcome the owners of the estates, the clerks would find their way here. Several portraits hang on its walls – incongruously Napoleon Bonaparte, Mahatma Gandhi and Joseph Stalin all share quarters. "People from Slave Island itself always go there," says Dominic.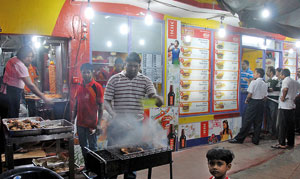 Burger is King: Something substantial at affordable prices. Pix by Sanka Vidanagama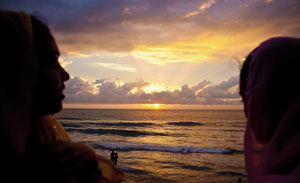 Galle Face: Always a hub of activity (below)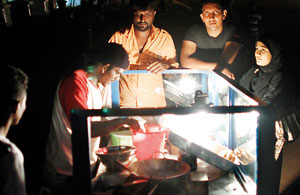 J.R is a Chinese food aficionado and says the city offers plenty of choices – 88 and 168 are both favourites, as is Min Han. The latter, tucked away down Deanstone Place is run by a Chinese family, but attracts plenty of locals. Simple dishes like the garlic broccoli and the chilli pepper prawns come highly recommended.
The sports clubs have their own devoted fans. Nishan* recommends pubs like and Cheers, but Inn on the Green is his favourite. Why watch a football match in a group? In one word – "banter." Anushan is a member of the Rowing Club, and will often take friends there but Machang in Nawala is one of his favourite new places. A sports pub, it has two large screens and a football and pool table as well. Plus some drinks come really cheap, says Anushan.
Though he hasn't been there in awhile, Delon suggests you try to track down a man named Bulan who owns a small shop in Slave Island – "he's like this massive Malay guy, with big arms and a gold chain around his neck." Though he speculates that the likes of Burger's King might have driven Bulan off, one hopes that Bulan can still be found on some nights outside his spot at the Nippon Hotel.
Delon remembers the man's usual menu clearly. "He has all sorts of weird food there – he's got rabbit and quail, all sorts of offal. He makes a great rampe chicken," says Delon, adding that "back in the day he used to be very, very popular."
"I've always liked going to Summer Gardens," says Subha describing the old beer garden on Greenpath, opposite Vihara Mahadevi Park. "It's been there for a really long time and there's a lot of nostalgia associated with it – going there when we were kids and eating chilli powder fries while our parents had a beer." (Among other things, the restaurant is known for their steaks, served sizzling.)
Today, she also recommends the hoppers, both at Summer Gardens and at Green Cabin on Galle Road. "You have to eat hoppers with tomato curry and cadju curry," says Subha firmly. She's also a fan of the Galle Face Hotel.
"If you go there a little early, you can have high tea and then stay on and catch the sunset," she says, suggesting you go on to drinks after dark. The clubs hold little allure for Subha, describing them as insipid, she says she's frustrated at the lack of an alternative scene and would like to see more adventuresome DJs go beyond playlists made up of mainstream music.
Still, for some, Colombo's clubs still have their appeal. "Nightlife? Amuseum because the music is super, the crowd is great and it's a beautiful nightclub," says Nehara.* Later in the night, Lakeside's Kiribath with mutton curry "is to die for," she adds.
Courtesy: Fazli Sameer's blog
All about Colombo

Fort Railway Station

Colombo Colleges

Other Resources